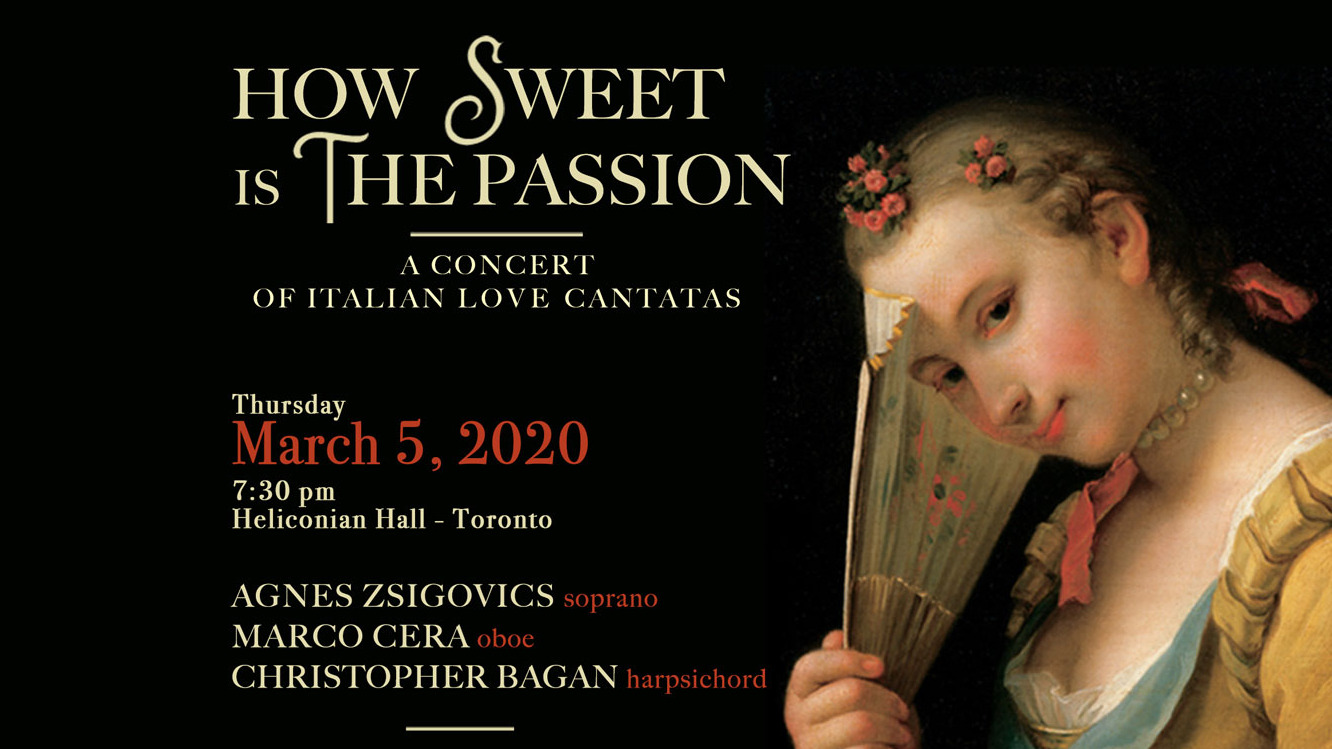 How Sweet Is The Passion: A Concert Of Italian Love Cantatas
September 23
07:29 PM
Venue
Heliconian Hall
Toronto, ON
Radar
Performers
Presented by:
Event Details
An intimate evening of 18th-century Italian chamber music, featuring cantatas by Lotti, Aldrovandini, Handel and Mancini (Francesco, not Henry!), an oboe sonata by Ferrandini, and a wonderful Follia for solo harpsichord by the 17th-century icon Girolamo Frescobaldi.
With Agnes Zsigovics, soprano; Marco Cera, oboe; and Christopher Bagan, harpsichord.
The music is bright, delicate, tender, fiery and varied – and the performers are amongst Canada's brightest, too. Warm your late winter spirits with this perfect program for the imminent arrival of spring, in one of Toronto's loveliest small concert venues.
Hope to see you there!
Featured Program
Giuseppe Antonio Aldrovandini: "Son ferito d'un labro di ciglio" Cantata, Voce sola, Oboe, e Basso Continuo
Giovanni Ferrandini Sonata for Oboe and Continuo n. 2 in A minor
Antonio Lotti: "Ti sento o Dio bandato" Cantata for Soprano, Oboe and Basso Continuo
G.F. Handel: "Mi palpita il cor" Cantata for Soprano, Oboe and Basso Continuo
Girolamo Frescobaldi: Partita sopra l'aria di Follia for solo harpsichord
Francesco Mancini: "Quanto dolce e' quell'ardore" Cantata for Soprano, Oboe and Basso Continuo