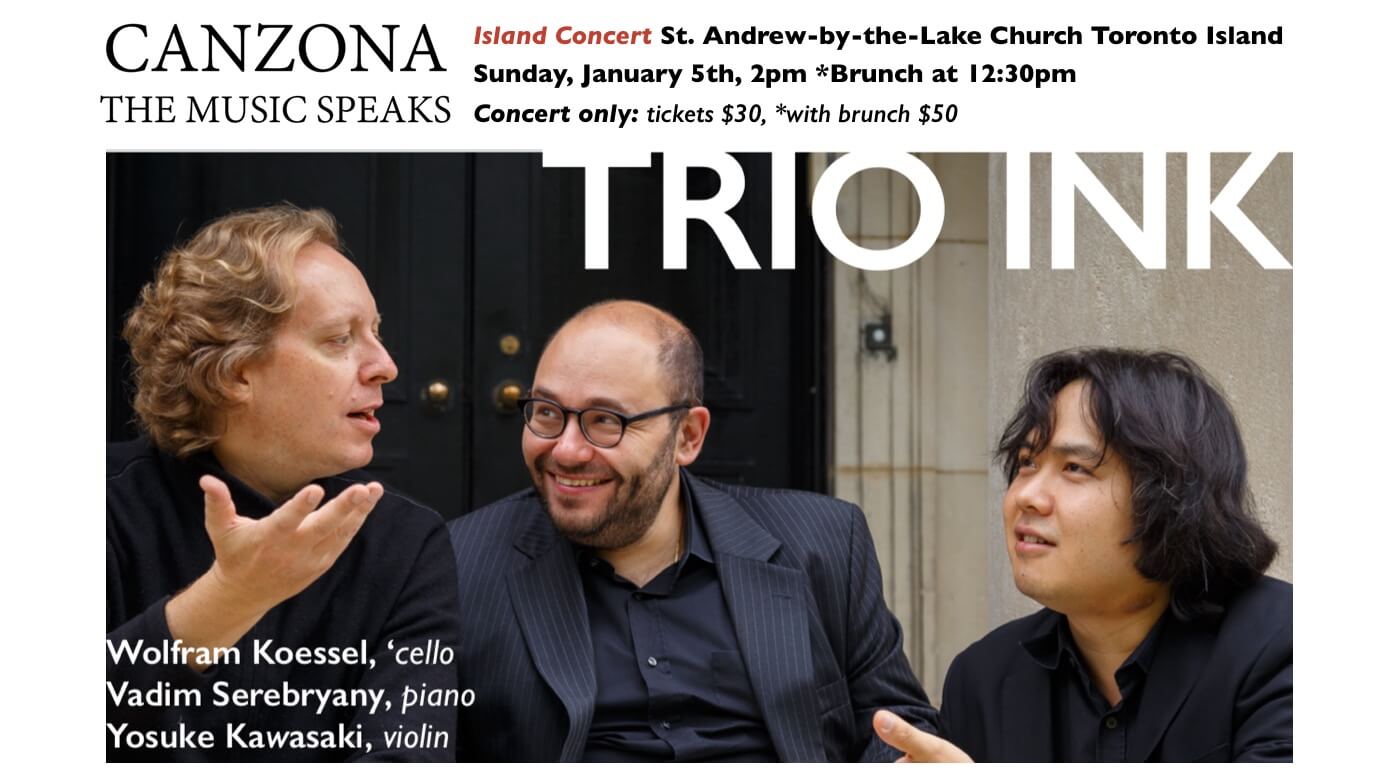 Trio Ink, Beethoven Trios; Island Concert, Canzona 17th S...
December 05
08:53 PM
Venue
St. Andrew-by-the-lake Church
Toronto, ON
Radar
Presented by:
Event Details
Yosuke Kawasaki, violin
Yosuke Kawasaki currently serves as Concertmaster of Canada's National Arts Centre Orchestra. He is also a member and co-Concertmaster of the Mito Chamber Orchestra and Saito Kinen Orchestra in Japan both under the baton of Seiji Ozawa. Prior to his position in Ottawa, he served as Concertmaster of the Japan Century Orchestra and Montgomery Symphony Orchestra. Mr. Kawasaki is currently on faculty of University of Ottawa School of Music and Affinis Summer Music Festival.
Mr. Kawasaki has made solo appearances with Aspen Chamber Symphony, Greenwich Village Orchestra, Hiroshima Symphony Orchestra, Idaho State-Civic Orchestra, Japan Century Orchestra, Kyushu Philharmonic, Mito Chamber Orchestra, Orquesta Filarmonica de Lima, Saito Kinen Orchestra, South Carolina Philharmonic, Thirteen Strings, Tokyo Metropolitan Symphony Orchestra, and Singapore National Youth Symphony.
As a chamber musician Mr. Kawasaki is a founding member of the D'Amici String Quartet along with Federico Agostini, Sadao Harada, and James Creitz as well as Trio+ with Vadim Serebryany and Wolfram Koessel. The two ensembles have toured extensively within North and South America, Europe and Japan. He is also a founding member of Arkas String Quartet, a resident ensemble in Sasebo, Japan.
His most recent recordings include chamber works by Beethoven, Mozart and Schumann on the
TDK Core Label and Denon Label. He has also recorded Bach's Double Concerto and the Complete Brandenburg Concertos with Walter van Hauwe and the Saito Kinen Chamber Players, both on the King Label.

Mr. Kawasaki began his violin studies at the age of six with his father Masao Kawasaki and continued with Setsu Goto. At the age of ten he was accepted into The Juilliard School Pre-College Division and further continued his education and graduated from The Juilliard School in 1998 under the tutorship of Dorothy DeLay, Hyo Kang, Felix Galimir and JoelSmirnoff.
Wolfram Koessel, cello
Since his critically acclaimed Carnegie Hall debut, cellist Wolfram Koessel has embarked on a diverse career as a soloist, recitalist and chamber musician, performing internationally in the world's most distinguished concert halls. STRAD magazine wrote of "the exceptionally attractive cello playing of Wolfram Koessel". He has established himself as a sought-after musician, performing concertos with the Jupiter Symphony, the New York Metamorphoses Orchestra (which he co-founded in 1994), Jerusalem Symphony, the Osaka Symphony, the Mannes Orchestra, and symphony orchestras in Stuttgart, Cordoba, Mendoza, Costa Rica, Iowa, and New York. In 2006 Mr. Koessel joined the American String Quartet with whom he performs regularly at the Berlin Philharmonie, Amsterdam's Concertgebouw, the Köln Philharmonic Hall, the Metropolitan Museum of Art, and theKimmel Center among others. He has performed with artists such as Rene Fleming, Richard Stolzman, Edgar Meyer, Menahem Pressler, Zakir Hussain, Ute Lemper, Sharon Kam, and Jeremy Denk. He is on the cello and chamber music faculty at the Manhattan School of Music and also in residence at the Aspen Music Festival and the Great Wall Academy in China. He served as Music Director of the Mark Morris Dance Group from 2004-2008 and has toured extensively with the company, performing hundreds of concerts and world premieres with them worldwide. Based in New York City, Mr. Koessel appears with a wide range of ensembles and chamber music groups including the Orpheus Chamber Orchestra and the New York Philharmonic. Upcoming performances will lead Mr. Koessel to Israel, Japan, Germany, Spain, Canada and across the United States. He is a founding member of the group Trio Ink together with violinist Yosuke Kawasaki and pianist Vadim Serebryany. This unique group expands the idea of a piano trio with creative programming and distinctive performance atmospheres.
Vadim Serebryany, piano
Vadim Serebryany has been highly sought after as a recitalist, concerto soloist, and chamber musician. He has performed in Europe, South America, Australia, and throughout the US, Canada, and Japan. In recent seasons Mr. Serebryany has been a guest soloist with the National Arts Center Orchestra, The Kingston Symphony, the Osaka Century Orchestra, and Montgomery Symphony Orchestra.
In 2005, Vadim founded Trio+, with violinst Yosuke Kawasaki and cellist Wolfram Koessel. The ensemble is known for its creative programs which explore a large portion of the chamber repertory including duos, trios, and larger ensembles in which they frequently collaborate with guest artists. The trio has performed to critical acclaim throughout North America and Japan.
Mr. Serebryany is a graduate of the Royal Conservatory of Music of Toronto, the Juilliard School, and Yale University. His teachers have included Marina Geringas, Oxana Yablonskaya, Jacob Lateiner and Boris Berman.
From 2005 to 2008 Mr. Serebryany served as Artist in Residence at La Sierra University in Riverside, California, and has also served as a visiting professor at Lawrence University. From 2008 to 2016, Mr. Serebryany was a professor of music at Huntingdon College in Montgomery, Alabama, and in 2015 was named Huntingdon's first ever Belcher-Cheek Artist in Residence.
Mr. Serebryany joined the piano faculty at the Ithaca College School of Music in 2016.
Island Concert
St. Andrew-by-the-Lake Church Toronto Island
- Please note Brunch reservations are required –
Email: reservations@canzona.org
Or call/text Jonathan Krehm: (416) 822-0613
Or for Toronto Islanders, please call Roger Sharp: (416) 203-2416
*City Concert Please go to https://www.bemusednetwork.com/events/detail/735
Monday, January 6th, 7:30 PM St. George the Martyr Church 197 John Street, Toronto Tickets $30
Featured Program
Ludwig van Beethoven
Piano Trio No. 3 in C minor, Op. 1 No. 3
Allegro con brio
Andante cantabile con Variazioni Menuetto
Finale
Ludwig van Beethoven
Piano Trio in D major, Op.70 No.1 "Ghost"
Allegro vivace e con brio Largo assai e espressivo
Presto
INTERMISSION
Ludwig van Beethoven
Archduke Trio, Op. 97
Allegro moderato
Scherzo (Allegro)
Andante cantabile ma però con moto, Poco piu adagio Allegro moderato, Presto
View program booklet