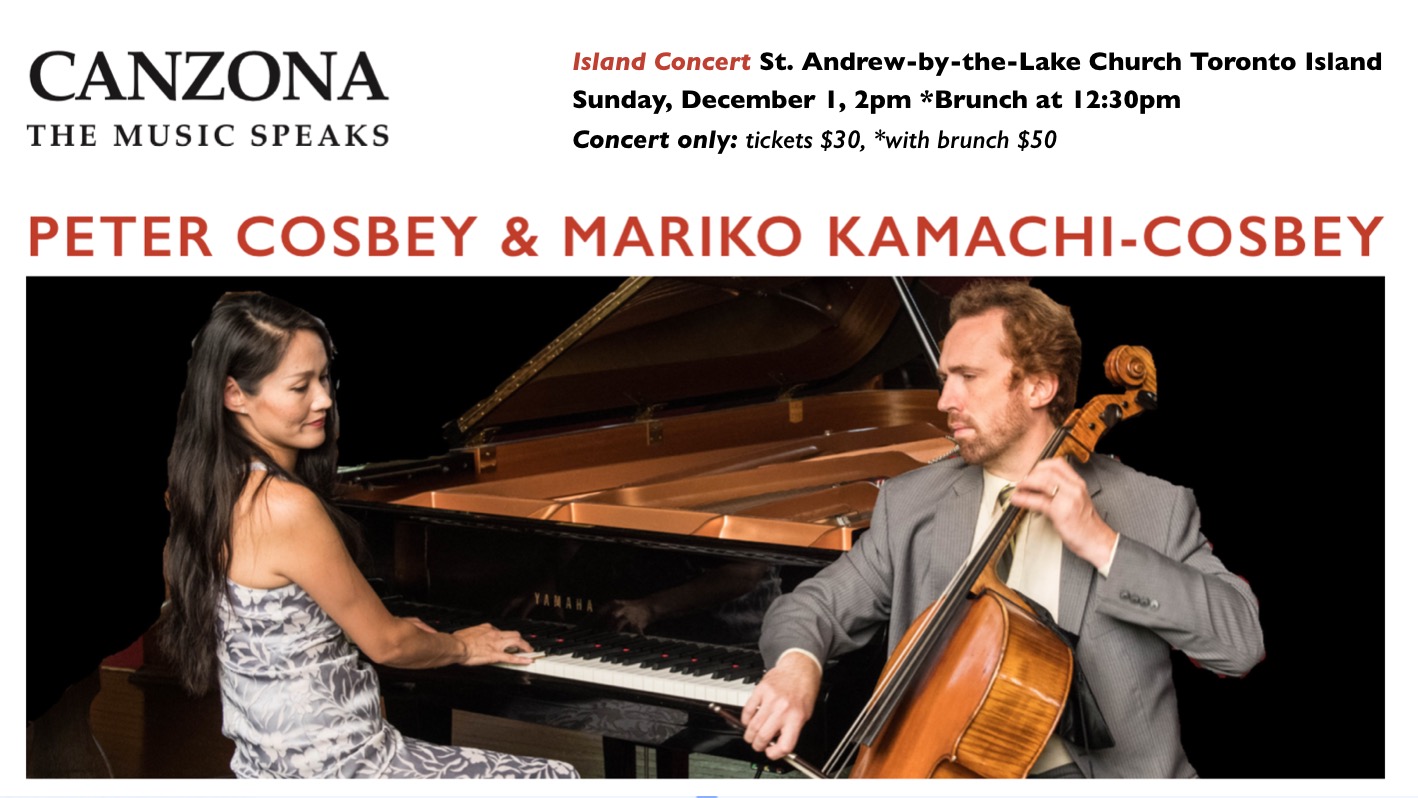 Peter Cosbey & Mariko Kamachi-cosbey; Island Concert, Can...
December 05
08:48 PM
Venue
St. Andrew-by-the-lake Church
Toronto, ON
Radar
Presented by:
Event Details
Canzona is excited to welcome Peter and Mariko from Thunder Bay!
You have selected the Toronto Island Concert (please select with or without brunch prior)
*Please use this link to find tickets to the City Concert, Monday December 2nd, 7:30pm: https://www.bemusednetwork.com/events/detail/734
Toronto Island concerts will take place at St.-Andrew-By-The-Lake Church (Cibola Ave., Centre Island) and City Concerts at St. George The Martyr Church (197 John St. at Stephanie St.)
Sunday, December 1, 2:00 PM Brunch at 12:30 PM
St. Andrew-by-the-Lake Church Toronto Island
Tickets $30
Including Brunch $50
- Please note brunch reservations are required by the Wednesday before the concert-
Please email: reservations@canzona.org
or call/text Jonathan Krehm: (416) 822-0613
or for Toronto Islanders please call Roger Sharp: (416) 203-2416
About Peter Cosbey, cello and Mariko Kamachi-Cosbey, piano:
Peter Cosbey, cello – Acclaimed for his versatility in a wide variety of genres, cellist Peter Cosbey enjoys a career as a highly sought-after chamber musician, orchestral musician, composer, and educator. "His virtuosity is apparent with every stroke of his bow" (Echo Germanica). He is a founding member of The Annex Quartet, one of Canada's most dynamic groups, which has appeared in hundreds of concerts, including at Carnegie Hall, Toronto's Luminato Festival, and the Stratford Summer Music Festival. The Annex Quartet collaborated with Jane Bunnett to win the 2015 JUNO Award for Jazz Record of the Year. Peter has been a guest cellist with the Afiara Quartet, Hausmann Quartet, the ARC Ensemble, and has been heard on CBC radio. He served as Assistant Principal of the Winnipeg Symphony Orchestra, and performs regularly with the Toronto Symphony Orchestra, Canadian Opera Company, the National Ballet of Canada, and the Esprit Orchestra. Peter is an enthusiastic and dedicated teacher and chamber music coach and has taught and performed at many summer music festivals and programs. He is a member of the dynamic Cosbey Family Quintet. A graduate of the Royal Conservatory of Music's Glenn Gould School, he began his cello study in Regina.
Mariko Kamachi-Cosbey, piano – Pianist Mariko Kamachi-Cosbey began her piano studies at the age of five with Mitsuo Yoshimo in her home country of Japan, where she was a laureate of the Piano Teacher's National Association competition (1990 & 1991). She continued her studies at the Royal Conservatory of Music's Glenn Gould School under the tutelage of Leslie Kinton. In Canada, she has performed frequently as a recitalist and chamber musician. The 2007 Regina Musical Club Competition winner recital performance with Peter Cosbey (cello) was broadcast on CBC radio. As well she has performed for the Regina Chamber Music Festival and the Alicier Arts series in Toronto. Recently, Mariko has performed with the Cosbey Quintet at the Thunder Bay Conservatory of Music's Summer Strings Chamber Music Festival and with Peter on the Consortium Aurora Borealis concert series in Thunder Bay. Mariko has been teaching piano for almost two decades and recently was an adjudicator for the ORMTA piano 4 Trophy competition at the Lakehead Festival of Music and the Arts. Besides music Mariko is a busy mother of three young children and is excited to be performing again after having taken a maternity leave.
- –
Share this events Ticket Link: https://www.bemusednetwork.com/events/detail/732
Visit us on Facebook: https://www.facebook.com/CanzonaChamberPlayers/
Visit our website: https://www.canzona.org
Featured Program
Franz Schubert
Arpeggione Sonata in A minor, D 821 (1824)
Allegro moderato Adagio Allegretto
Felix Mendelssohn
SonataNo.1inB-flatmajorforcelloandpiano,Op. 45(1838)
Allegro vivace Andante Allegro assai
INTERMISSION
Claude Debussy
Sonata for cello and piano, (1915)
Prologue: Lent, sostenuto e molto risoluto Sérénade: Modérément animé Final: Animé, léger et nerveux
Frédéric Chopin
Polonaise in C-sharp minor, Op. 26, No.1(1836)
Gabriel Fauré
Elégie in C minor , Op. 24 (1880)
Karl Davydov
At the Fountain, Op. 20, No. 2 (1870)
Sergei Rachmaninoff
Vocalise, Op. 34 No. 14 (1912)
David Popper
Elfentanz , Op. 39 (1881)
View program booklet