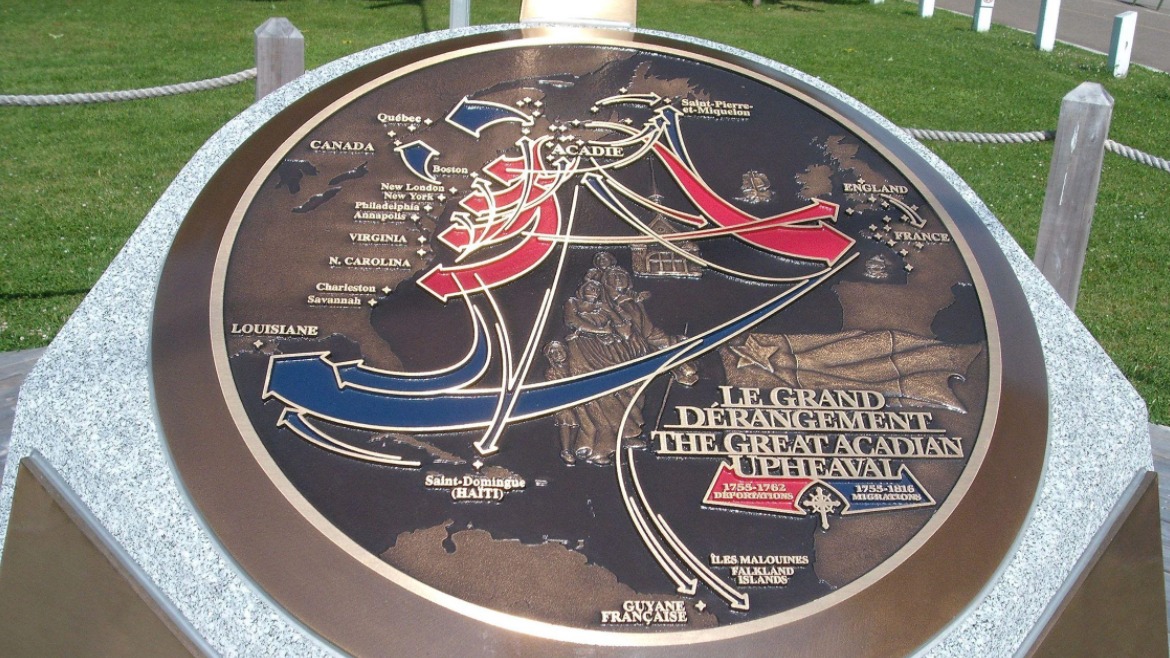 ConfÉrence- L'aventure Des Acadiens Aux îles Malouines ...
May 25
07:00 PM
Venue
Alliance Française
Toronto, ON
Radar
Presented by:
Event Details
Une conférence présentée en partenariat avec la Société d'Histoire de Toronto. 
Cette conférence sera en français uniquement. 
Apprenez-en plus sur l'avenruee des acadiens aux îles malouines lors de notre conférence  !
1 / RSVP ici.
3 / Venez profiter de la conférence et n'hésitez pas à poser vos questions !
Qui sera votre conférencier ?
Christian Bode est membre de la Société d'histoire de Toronto. 
Quel sera le sujet de la conférence ?
À la fin de la Guerre de Sept ans, Louis-Antoine de Bougainville entreprend le projet d'une colonie d'Acadiens sur les îles Malouines, alors possession de la couronne d'Espagne. Il va recruter des réfugiés acadiens chassés de leur pays et provisoirement installés en Bretagne à Saint-Malo.
Pour tous les participants de cette aventure, les Malouines représentent une nouvelle Arcadie, terre d'harmonie, scintillante, idyllique pour y installer une colonie vivant dans une paix pastorale. Un voyage au bord d'une merveilleuse utopie…
Les premiers écueils apparaissent : une traversée atterrante sur des mers forcenées… Puis l'Espagne se rebiffe. Puis surgit le spectre d'une faillite retentissante. Enfin les Anglais, encore eux, se manifestent avec toutes leurs menaces. C'en est trop. L'aventure des Acadiens aux Malouines aura duré à peine trois ans. Mais certains de leurs descendants y sont restés. 
Plus qu'à réserver votre place (c'est gratuit) !
Contactez-nous par courriel à culturel@alliance-francaise.ca si vous avez la moindre question.
Veuillez consulter toutes nos Nouvelles règles avant de participer à l'un de nos événements :
Compte tenu du protocole sanitaire en vigueur, un certificat de vaccination et une pièce d'identité seront demandés à l'entrée du bâtiment. Le port du masque est obligatoire dans nos locaux.
Nouvelles règles…
Utilisez l'entrée sur Spadina Road (porte en verre)
Achetez / réservez vos billets / RSVP en ligne. Pas de billetterie sur place !
Les portes n'ouvriront que 20 minutes avant l'événement
Les portes seront fermées 10 minutes après le début de l'événement
La distanciation physique doit être respectée partout dans le bâtiment
Masques obligatoires. Il vous sera demandé de les garder pendant toute la durée de l'événement.
Veuillez remplir notre registre
Veuillez nettoyer vos les mains avant d'entrer dans le théâtre (gel hydroalcoolique disponible)
Votre siège sera sélectionné par un membre de notre équipe pour assurer une distance sécuritaire
N'apportez ni nourriture ni boisson
Profitez de l'événement !
Utilisez la sortie sur Lowther Avenue (porte du théâtre)
A talk presented in partnership with the Société d'histoire de Toronto. 
This talk will be presented in French only.
Learn more about the  in our talk! 
1 / RSVP here.
2 / Enjoy the talk and feel free to ask your questions!
Who will be your speaker?
Christian Bode is a member of the Société d'Histoire de Toronto. 
What will be the topic of the talk?
At the end of the Seven Years' War, Louis-Antoine de Bougainville initiated the project of a colony of Acadians on the Falkland Islands, then in the possession of the Spanish crown. He recruited Acadian refugees who had been forced out of their country and temporarily settled in Saint-Malo, Brittany.
For all the participants in this adventure, the Falklands represent a new Arcadia, a land of harmony, glittering, idyllic to install a colony living in pastoral peace. A journey to the edge of a wonderful utopia...
The first obstacles appear: a disastrous crossing on stormy seas... Then Spain rebels. Then the spectre of a resounding bankruptcy arose. Finally the English, again, appeared with all their threats. It is too much. The adventure of the Acadians in the Falklands lasted barely three years. But some of their descendants remained there. 
All you have to do is book your spot (it's free)!
Contact us by email at culturel@alliance-francaise.ca if you have any questions.
Please note that in accordance with current health measures, proof of vaccination and an ID will be required at the entrance of the building. Wearing a mask is mandatory in our premises.
Health Measures:
Use the door on Spadina Road (glass door)
Buy/Book your tickets/RSVP online. No box office on-site!
Doors will open only 20 minutes before the event.
Doors will be closed 10 minutes after the beginning of the event.
Physical distancing has to be respected everywhere in the building.
Your seat will be selected and facilitated by a member of our team to ensure safe distancing.
Don't bring food and beverages.
Enjoy the event!
Take the exit on Lowther Avenue (Theatre door).
Please find all our information here. Merci and see you soon!