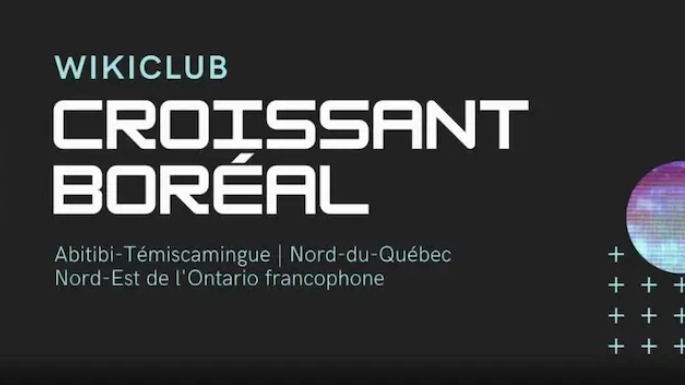 Quand Technologie Et Créativité Vont De Pair : La Déco...
December 08
07:00 PM
Venue
ONLINE EVENT
Radar
Presented by:
Event Details
Une conférence présentée en partenariat avec la Société d'Histoire de Toronto. 
Cette conférence sera en français uniquement. 
Apprenez-en plus sur le WikiClub Croissant boréal et la découvrabilité territoriale lors de notre conférence en ligne !
1 / Inscrivez-vous.
2 / Recevez le Zoom peu avant l'événement.
3 / Profitez de la conférence et n'hésitez pas à poser vos questions !
Qui sera votre conférencier ?
Les membres du Wikiclub Croissant Boréal seront présents pour vous transmettre tout leur savoir et répondre à vos questions ! 
Quel sera le sujet de la conférence ?
L'ère numérique a changé les habitudes de consommation des auditoires. « Le problème a été nommé : on l'appelle la découvrabilité des contenus. » 
Virer au numérique : un enjeu majeur.  La découvrabilité désigne le potentiel d'un contenu culturel à capter l'attention d'un auditoire, des internautes.  Comment s'assurer que vos contenus numériques culturels se démarquent et soient captés en premier.  
Les Wikiclubs offrent de la formation, des ateliers et de l'animation.   Ils permettent la découverte des possibilités offerte par le numérique.  Ils développent des réflexes gagnants sur Wikipédia, Creative Commons et Wikidata pour rendre nos territoires découvrables

C'est pourquoi Avantage numérique, le Petit Théâtre du vieux Noranda, le Conseil de la culture de l'Abitibi-Témiscamingue et l'Administration régionale Baie-James se sont mobilisés pour mettre en place un projet innovant, les ADT, agents.es de découvrabilité territoriale.
Plus qu'à réserver votre place (c'est gratuit) !
Contactez-nous par courriel à culturel@alliance-francaise.ca si vous avez la moindre question.
A talk presented in partnership with the Société d'histoire de Toronto. 
This talk will be presented in French only.
Learn more about the WikiClub Croissant boréal and territorial discoverability  in our online talk! 
1 / Registration.
2 / Receive the Zoom shortly before the event.
3 / Enjoy the talk and feel free to ask your questions!
Who will be your speaker?
The members of the Wikiclub Croissant Boréal will be there to share their knowledge and answer your questions! 
What will be the topic of the talk?
The digital era has changed the consumption habits of audiences. "The problem has been identified: it's called content discoverability. 
Going digital: a major challenge.  Discoverability refers to the potential of cultural content to catch the attention of an audience, of Internet users.  How to make sure that your digital cultural content is unique and gets discovered first.  
Wikiclubs offer training, workshops and animation. They allow the discovery of the possibilities offered by digital technology.  They develop successful reflexes on Wikipedia, Creative Commons and Wikidata to make our territories discoverable
This is why Avantage numérique, the Petit Théâtre du vieux Noranda, the Conseil de la culture de l'Abitibi-Témiscamingue and the Administration régionale Baie-James have joined forces to set up an innovative project, the ADTs, agents of territorial discoverability. 
All you have to do is book your spot (it's free)!
Contact us by email at culturel@alliance-francaise.ca if you have any questions.