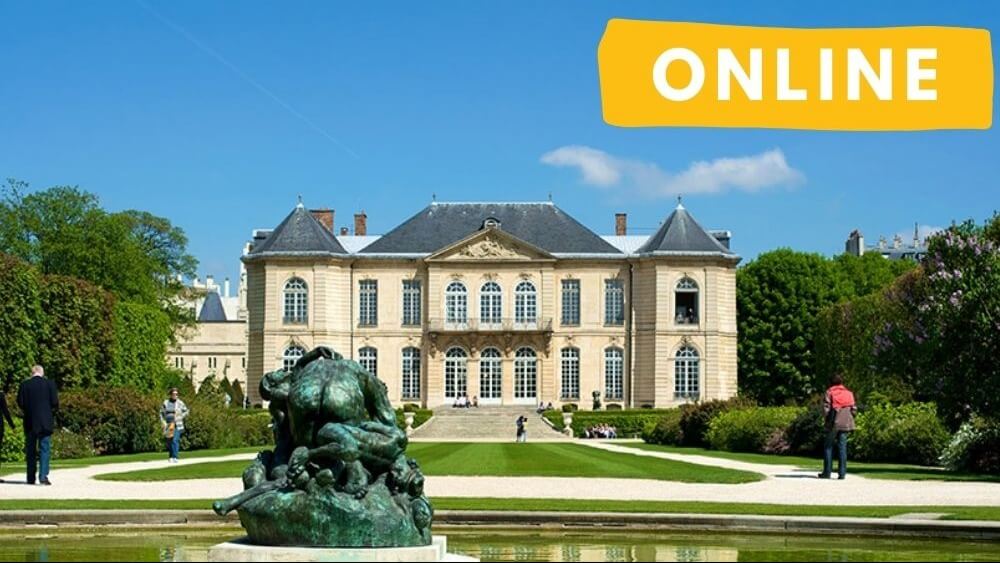 Les Visites Parisiennes - Le Musée Rodin (advanced Level...
July 31
09:15 AM
Venue
ONLINE EVENT
Radar
Presented by:
Event Details
LEVEL Advanced and Francophone
Le Musée Rodin : donner vie à la pierre
Auguste Rodin eut une vie de tumulte et de passion : sa sculpture en est l'écho. Il s'empare de la pierre brute et il en fait émerger un corps d'une grande sensualité, ou bien les traits sévères d'un écrivain, la marche pensive d'un artiste en pleine réflexion… Connu aujourd'hui comme l'un des plus grands sculpteurs de l'histoire, pionnier de l'art moderne par l'innovation de ses techniques et le traitement de ses sujets, Rodin fait partie de ses artistes dont l'oeuvre ne peut que marquer votre esprit. 
Acclamé par la critique et parfois détesté, Rodin a déchainé les passions dans l'art et en amour. En suivant les oeuvres du Musée Rodin, Ophélie Delacour vous invite à mieux comprendre le sculpteur : sa rencontre avec les oeuvres de Michel-Ange, sa passion pour l'artiste Camille Claudel, maîtresse autant que rivale, ses techniques et son évolution stylistique… Virtuose de la sculpture, il n'a pourtant pas réussi à finir le travail de toute sa vie, La Porte de l'Enfer, dont le célèbre Penseur n'est qu'une petite partie… Le temps d'une visite, venez découvrir comment Rodin, armé de ses outils, de son talent et de sa vision artistique, a effectivement réussi à donner vie à la pierre.
Qui est votre guide ?
Passionnée d'art et de culture, Ophélie Delacour est diplômée en médiation culturelle à l'Ecole du Louvre, à Paris. Depuis plusieurs années, elle travaille en tant que guide touristique et organise des visites des différents quartiers et chef d'oeuvres de Paris (Quartier latin, Montmartre, Tour Eiffel). En 2019, elle vient travailler un an pour l'Alliance Française de Toronto et les première visites guidées en ligne se mettent en place durant la crise de la Covid-19. Elle est maintenant de retour en France, où elle vit et continue d'animer des cycles de conférences en ligne à Toronto.
Cette visite guidée parisienne s'inscrit dans un cycle de 4 conférences en ligne : 
La Tour Eiffel : une Dame de Fer  // vendredi 4 et samedi 5 décembre
Musée Rodin : donner vie à la pierre // vendredi 15 et samedi 16 janvier
Les femmes au Centre Pompidou // vendredi 5 et samedi 6 mars
Notre-Dame de Paris : légende, histoire et reconstruction // vendredi 16 et samedi 17 avril
Comment ça marche ?
Inscrivez-vous et vous recevrez un lien Zoom la veille de la visite. La visite dure 1h et sera bien sûr interactive. Toutes vos questions sont les bienvenues !
Pourquoi un système de Payez ce que vous voulez ?
Comme de nombreuses institutions culturelles, l'AFT a été durement frappée par la crise du Covid-19. Nous désirons continuer à vous proposer du contenu culturel de qualité et nous opérons la transition vers les événements en ligne. Votre contribution financière pour cet événement nous permet de poursuivre notre travail. Merci !
----------------------------------------------------------------------------------------------------------------
Online Parisian guided tour - The Rodin Museum 
The Rodin Museum sculpting life into stone
Auguste Rodin had a tumultuous and passionate life : his sculptures reflect it. He takes the raw stone and from he lets emerge a highly sensual body, the severe face of a great writer or the pensive walk of an artist at work… Known today as one of the greatest sculptors in HIstory, a pioneer in modern art with all his innovation and the way he interpreted the most classical subjects, Rodin is one of these artists whose work leaves its mark on your mind. 
Praised and sometimes hated, he unleashed great passions both in art and in love. With the artworks of Musée Rodin, Paris, Ophélie invites you to better understand the sculptor: his encounter with Michel-Ange's art, his passion for the artist Camille Claudel, a lover and a rival, his techniques and his stylistic evolution… His struggles too: he was a virtuose at sculpting yet he could not finish the work of his life, The Gates of Hell, from which the famous Thinker is only an extract. Discover how Rodin, with his tools, his talent and his artistic vision, did sculpt life into stone. 
Who is your guide?
Passionate by art and culture, Ophélie Delacour graduated in cultural mediation from Ecole du Louvre, in Paris. Since a couple of years, she works as a tour guide and organises tours in different Parisian districts and masterpieces (Eiffel Tour, Latin District, Montmartre). In 2019, she comes to Toronto to work for one year at Alliance Française Toronto and offers the first online guided tours during Covid-19. She is now back in France, where she lives and from where she keeps on giving online tours in Toronto. 
This Parisian guided tour is part of a serie of 4 online talks:
The Eiffel Tower: an Iron Lady // Friday and Saturday, December 4 and 5
Rodin Museum: sculpting life into stone // Friday and Saturday, January 15 and 16
Women at Pompidou Center // Friday and Saturday, March 5 and 6
Notre-Dame de Paris: legend, history and reconstruction // Friday and Saturday, April 16 and 17
How does it work?
Sign up here and you will recieve a Zoom link the night before the event. The tour is 1h and consists of the discovery of the Eiffel Tower. All of your questions are certainly welcome and the tour will be interactive.
Why a Pay what you can?
As most cultural institutions, AFT was harsly hit by the Covid-19 crisis. We want to keep on offering you great cultural events and we are transitionning towards full online cultural material. Your financial support for this event will help us face the challenges and keep on with our work. Merci.