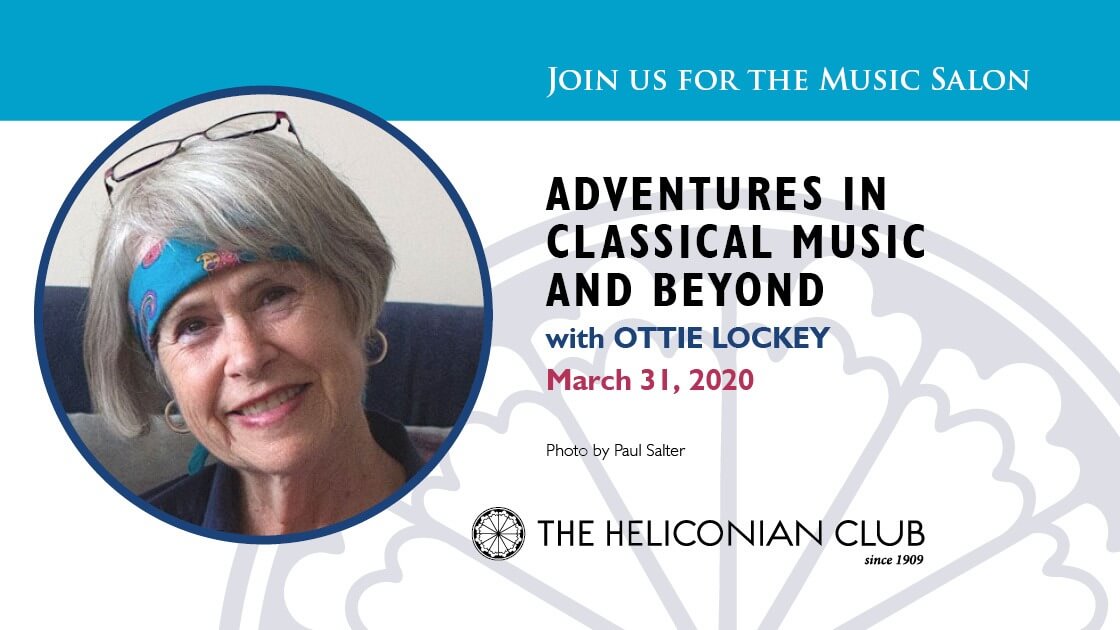 Music Salon: Adventures In Classical Music And Beyond
March 31
07:30 PM
Venue
Heliconian Hall
Toronto, ON
Radar
Presented by:
Event Details
With Ottie Lockey, director of Ottie Lockey Management. Memories from the early days of Tafelmusik Baroque Orchestra shared by the orchestra's first managing director, Ottie Lockey. Subsequent experiences with The Gryphon Trio, Toronto Consort and the Na­tional Arts Centre Orchestra provide an entertain­ing and illuminating musical mosaic. A highly regarded arts consultant, Ottie is the recipient of several awards including the National Arts Centre Award for Inter­national Touring. As a life coach for the past twenty years, Ottie has enhanced the careers of many artists and arts administrators in Europe and Canada. She will also offer tips to those building a career in music today.
– Photo by Paul Salter
Featured Program
The Heliconian Club is happy to launch the 4th annual Heliconian Salon Series. The series will showcase guest speakers, from each of the artistic disciplines represented by sections of the Club. All Salon evenings will be held at historic Heliconian Hall, 35 Hazelton Avenue, Toronto, (Bay subway). Events begin at 7:30 (doors open at 7:00) and light refreshments are included.
Regular tickets: $25 or $140 for all six salons (HST included) (to purchase the series, click any ticket link below and select the series option on the right side).
Children under 12 FREE when accompanied by an adult (RSVP to the Club office beforehand)
Buy online or at the door (cash only)
Please note: seating is limited. To avoid disappointment, purchase your tickets online.