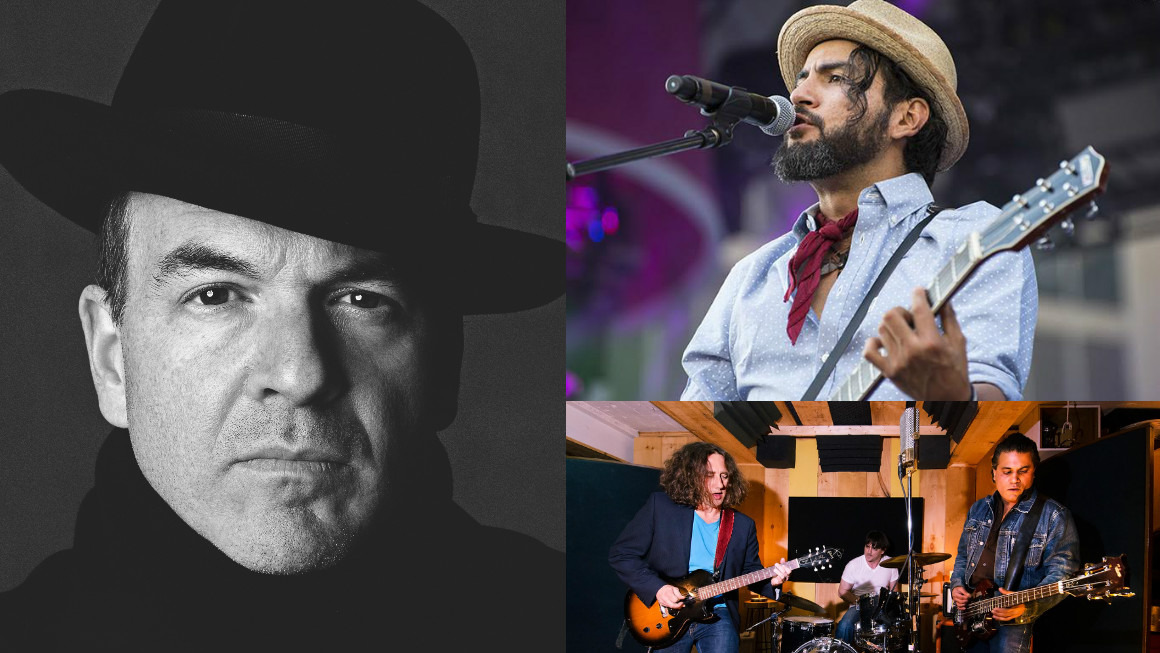 Lulaworld Day 8: The Mercy Now, Paul Reddick + Quique Esc...
June 08
09:30 PM
Venue
Lula Lounge
Toronto, ON
Radar
Presented by:
Event Details
$12 advance, $15 at the door
Door time: 8:30 pm, Show time: 9:30 pm
Dinner reservations guarantee seating. Call 416 588 0307 to reserve your table. Reservations and menu information also available at lula.ca
Presented by: Lula Music And Arts Centre and CIUT 89.5 FM
Mexican traditional meets rock and blues.
The Mercy Now
The Mercy Now is an original rock and roll trio from Toronto with an ever evolving sound spanning ten years. Lee Rogers, David Viva and Russell Fernandes channel their love of soul, hard rock, punk and pop to make up a truly unique sound, which is their proudest accomplishment. The band has released a full-length record on vinyl, an EP, and a plethora of hook-laden and bombastic singles, all to great acclaim. Finalists twice in a row for the international songwriting competition, winners of the Y108 rock challenge and countless shows and tours , the band continues to make sure their live show is where the ultimate connection is made. The band's latest self-titled full length record due out this year is a testimony to its commitment to cut through the frivolity of the times and make it count.
"Brash, attitude-driven garage-blues energy filtered through glam swagger weaving through a car crash of dirty riffs, soaring vocals, and the joyous attitude-driven sprit of the past that still rings true today. A blazing, upper register sound where you can sense both the fun and danger." Exclaim
"When you find yourself involuntarily banging your head 10 seconds into an album and the hard-rock fever doesn't break until the end, that's a very good sign." NOW Magazine NNNN.
Paul Reddick
Melding poetry, mystery, darkness and light, along with an extensive knowledge of the history and traditions of blues music is what makes Paul Reddick on of the most popular figures on the blues and roots music scene today. For over 25 years he's been writing and performing his eclectic brand of blues, bringing the art form to new frontiers with his rapacious, deep vocals, masterful harmonica playing and songwriting. As the unofficial poet laureate of Canadian blues, words are his weapon of choice and when he sings, it is near impossible not to listen and get lost within the songs, right alongside him and illustrating what the influential British magazine Mojo described as his "wayward brilliance."
Quique Escamilla
Winner of the 2015 JUNO for world music, for 500 Years of Night on the Lulaworld Record Label, Mexican Canadian singer-songwriter and multi-instrumentalist Quique Escamilla has also been awarded a Canadian Folk Music Award Winner. Escamilla has been called "a modern day troubadour, making music that comes straight from the soul." With several cross-Canada and European tours under his belt, Escamilla has also earned showcases at WOMEX, Mundial and Folk Alliance.
Presented by Lula Music and Arts Centre with support from Toronto Arts Council, Toronto Arts Council, Canadian Heritage and The Government of Ontario. Sponsored by CIUT 89.5 FM, Exclaim!, Barocco Coffee, Toronto Hispano, Telelatino/ Univision, Latinos Magazine and La Guia.
Featured Program
Lulaworld 2017: June 1 to 11
Celebrating the fifteenth anniversary of the world music venue Lula Lounge, the 2017 Lulaworld festival will bring together artists with roots in Cuba, Chile, Tibet, Colombia, Mexico, Brazil, Portugal and beyond for eleven days of original collaborations and newest projects that cross borders, genres and generations.
This year's edition of Lulaworld features more than 20 performance including two CD releases, a street mural project, lessons in Brazilian forró, Cuban salsa, and Tibetan dance a panel on music in the media and a community street brass band performance that you can take part in.
All concerts at Lula Lounge, 1585 Dundas Street West, Toronto except the daytime concerts on June 3 which will be at the outdoor stage at Dundas West Fest at 1630 Dundas West.
Full line up at lulaworld.ca and lula.ca.