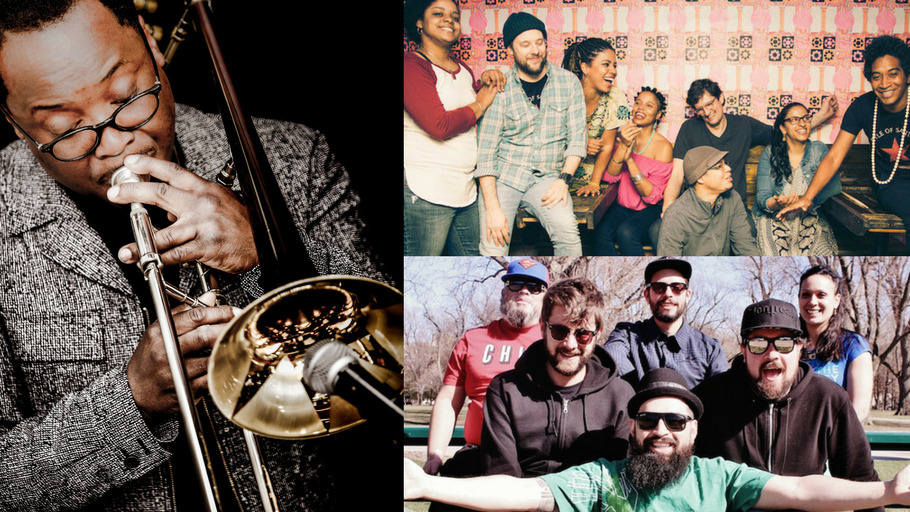 Lulaworld Opening Night: Dennis Rollins / Alexis Baro + ...
June 01
07:30 PM
Venue
Lula Lounge
Toronto, ON
Radar
Presented by:
Event Details
$12 advance / $15 at the door
Door time: 6:30 pm , Show time: 7:30 pm
Dinner reservations guarantee seating. Call 416 588 0307 to reserve your table.
Reservations and menu information also available at lula.ca
Presented by: Lula Music And Arts Centre, CIUT 89.5 FM and Exclaim!
Lulaworld kicks off with a night of Caribbean-infused jazz & funk from U.K., Cuban rock fusion and Latin urban/ rap from Montreal.
British trombonist Dennis Rollins, the founder of jazz funk fusion group Badbone and Co. joins us from Manchester, England to team up with local Cuban jazz trumpeter Alexis Baro. Later in the evening, Toronto-based Battle of Santiago combines Afro-Cuban rhythms and vocals with a distinctly Canadian post-rock spirit and sensibility. The night culminates in the much-anticipated return to TO by Sonido Pesao, an award-winning Montreal-based group that mixes Latin rhythms, rap & electro to create the explosive blend that can be heard on their latest album, Reir para no llorar. Sonido Pesao has been called "a Latin rhythm bomb with a contagious energy!"
Presented by Lula Music and Arts Centre with support from Toronto Arts Council, Toronto Arts Council, Canadian Heritage and The Government of Ontario. Sponsored by Exclaim!, NOW, Barocco Coffee, Toronto Hispano, Telelatino/ Univision, Latinos Magazine and La Guia.
Featured Program
Lulaworld 2017: June 1 to 11
Celebrating the fifteenth anniversary of the world music venue Lula Lounge, the 2017 Lulaworld festival will bring together artists with roots in Cuba, Chile, Tibet, Colombia, Mexico, Brazil, Portugal and beyond for eleven days of original collaborations and newest projects that cross borders, genres and generations.
This year's edition of Lulaworld features more than 20 performance including two CD releases, a street mural project, lessons in Brazilian forró, Cuban salsa, and Tibetan dance a panel on music in the media and a community street brass band performance that you can take part in.
All concerts at Lula Lounge, 1585 Dundas Street West, Toronto except the daytime concerts on June 3 which will be at the outdoor stage at Dundas West Fest at 1630 Dundas West.
Full line up at lulaworld.ca and lula.ca.