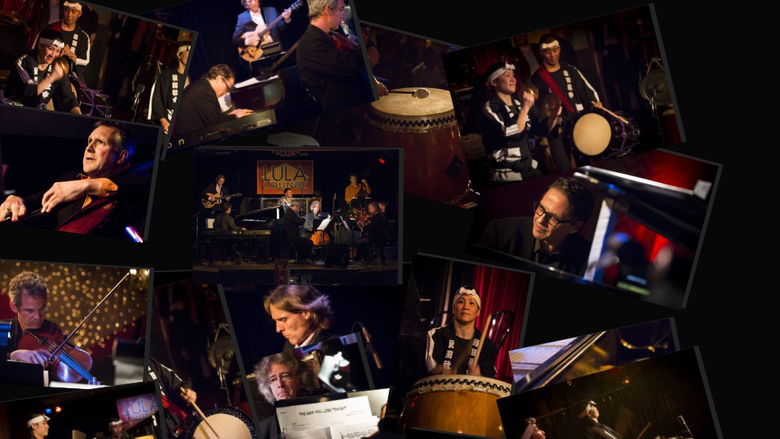 Symphronica: The Drumbeat Returns (again!) Feat. Nagata S...
April 15
10:47 PM
Venue
Lula Lounge
Toronto, ON
Radar
Performers
Presented by:
Event Details
SUBSCRIBE TO 2015/16 SEASON – 4 SYMPRHONICA-TASTIC SHOWS – SAVE 25%
Purchcase SUBSCRIBE! tickets at the Bemused page for the September 24 SYMPHRONICA event https://www.bemusednetwork.com/events/detail/129
**********************************************************************************************************************************
Their shows were the highlights of the past two year's concert seasons. SYMPHRONICA and the power of the Nagata Shachu. The Japanese drum ensemble's dazzling performance combined with the electric/acoustic jazz/pop/classical energy of SYMPHRONICA brought the house down. The two groups re-unite yet again for what promises to be an even more moving, earth-shaking evening of music, the likes of which you have never heard before.
SYMPHRONICA is the brilliant brainchild of highly acclaimed pianist/ leader / composer and ToRONtonian Ron Davis ("one of the great minds in jazz" - JAZZ.FM). Like Toronto, SYMPHRONICA is eclectic, beautiful and multicultural city. Davis drives SYMPHRONICA to cover a huge musical range – from Lady Gaga to Glenn Gould – and a rich range of collaborating artists – from rock guitairst Jason Nett and the Japanese drum group Nagata Shachu to Argentinian dance sensations The Lombard Twins. SYMPHRONICA's home since 2013 has been Toronto's fabled Lula Lounge, host to some of the finest music anywhere. SYMPHRONICA has been a brilliant light in a shining music scene.
Nagata Shachu has enthralled audiences with its mesmerizing and heart-pounding performances of the Japanese drum (taiko) since its formation in 1998 by artistic director Kiyoshi Nagata. The ensemble has toured widely, combining thunderous, primal drumbeats with subtle, intricate rhythms, the ensemble is able to produce a wide spectrum of sound. Featuring a vast array of Japanese taiko (including the massive O-Daiko), gongs, bells, wooden clappers, shakers and bamboo flutes, Nagata Shachu takex you on a musical journey beyond all borders.
#Symphronica
Featured Program
A musical highlight of the year, guaranteed to bring the house down: The power of the Nagata Shachu Japanese drum ensemble combined with Symphronica's electric/acoustic jazz/pop/string vibe. This collaboration, now in its third year, will be a moving, earth-shaking evening of music, the likes of which you have never heard before.
Doors open at 6:30pm. NOTE: If you'd like to enjoy a great meal during the show, after you buy your ticket, please contact Lula Lounge to reserve a dinner table: 416.588.0307 or on Open Table: http://www.opentable.com/lula-lounge-reservations-toronto