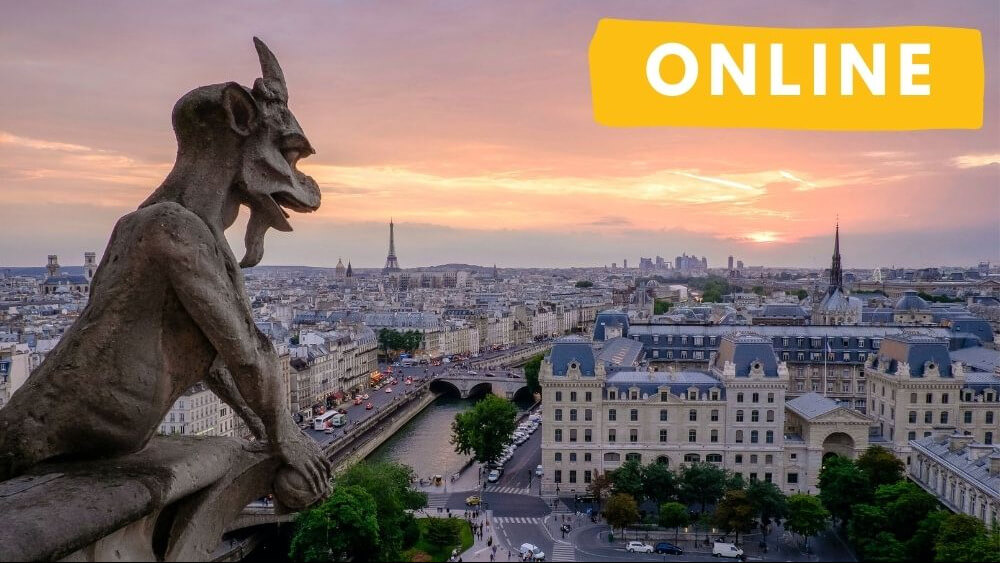 Visite Parisienne - Notre-dame De Paris (advanced Level A...
April 17
01:00 PM
Venue
ONLINE EVENT
Radar
Presented by:
Event Details
Featured Program
Notre-Dame de Paris : légende, histoire et reconstruction
NIVEAUX AVANCÉS ET FRANCOPHONE.
Véritable bijou de l'architecture gothique en plein coeur de Paris, célébrée par Victor Hugo dans Le bossu de Notre-Dame, la cathédrale s'est enflammée il y a deux ans, dans le nuit du 15 au 16 avril 2019. L'incendie a emporté avec lui la charpente de bois et la flèche de la cathédrale, qui s'est effondrée sur elle-même. Par chance, tout n'a pas brûlé et la façade en particulier, une merveille de l'art médiéval, est restée intacte.
Parler de Notre-Dame aujourd'hui, c'est évidemment parler d'un chef d'oeuvre de l'architecture gothique flamboyante. C'est également un extraordinaire exemple du travail de Viollet-le-Duc, qui au XIXe siècle restaure la cathédrale et ajoute au passage une flèche et 54 chimères sculptées, qui selon lui manquaient à la beauté de la cathédrale. Il justifie son geste en expliquant que ses rajouts sont tout à fait cohérents avec le reste du projet architectural. Où s'arrête la restauration, où commence la réinterprétation contemporaine ? 2 siècles plus tard, suite à l'incendie terrible qui a ravagé la cathédrale, la même question se pose : comment restaurer ? Faut-il assumer un "geste architectural contemporain", pour reprendre les mots du président Emmanuel Macron ? C'est une prise de risque qui a été faite ailleurs, notamment pour les vitraux de la cathédrale de Strasbourg. De l'histoire de Notre-Dame aux débats patrimoniaux que sa reconstruction soulève, plus de 850 ans après le début de sa construction, la cathédrale n'a pas fini de faire parler d'elle…
Passionnée d'art et de culture, Ophélie Delacour est diplômée en médiation culturelle à l'Ecole du Louvre, à Paris. Depuis plusieurs années, elle travaille en tant que guide touristique et organise des visites des différents quartiers et chef d'oeuvres de Paris (Quartier latin, Montmartre, Tour Eiffel). En 2019, elle vient travailler un an pour l'Alliance Française de Toronto et les première visites guidées en ligne se mettent en place durant la crise de la Covid-19. Elle est maintenant de retour en France, où elle vit et continue d'animer des cycles de conférences en ligne à Toronto.
Cette visite guidée parisienne s'inscrit dans un cycle de 4 conférences en ligne : 
La Tour Eiffel : une Dame de Fer  // vendredi 4 et samedi 5 décembre
Musée Rodin : donner vie à la pierre // vendredi 15 et samedi 16 janvier
Les femmes au Centre Pompidou // vendredi 5 et samedi 6 mars
Notre-Dame de Paris : légende, histoire et reconstruction // vendredi 16 et samedi 17 avril
Pourquoi un système de Payez ce que vous voulez ?
Comme de nombreuses institutions culturelles, l'AFT a été durement frappée par la crise du Covid-19. Nous désirons continuer à vous proposer du contenu culturel de qualité et nous opérons la transition vers les événements en ligne. Votre contribution financière pour cet événement nous permet de poursuivre notre travail. Merci !
Notre-Dame de Paris : the legend, story and reconstruction
The Cathedral is a true gothic gem in the very heart of Paris, celebrated by Victor Hugo in the Hunchback of Notre-Dame, and it burst into flame two years ago, in the night of 2019, April 15 and 16. The fire took with it the wooden frame and the cathedral's spire. Luckily, not everything burned down and the front especially, a wonder of medieval art, remained intact.
Talking about Notre-Dame today means of course celebrating a masterpiece of the flamboyant gothic architecture. It is also studying an extraordinary example of how Viollet-le-Duc worked, when in the 19th century he restored the cathedral and added the spire and 54 chimeras, which according to him were missing to the beauty of the building. He justified that by explaining that to him, these added parts were perfectly consistent with the whole architectural design. Where does the restoration stop, where does the contemporary reinterpretation start? Two centuries later, the same questions pop up again after the terrible fire that burned the cathedral: how should it be restored? Should we make a contemporary architectural gesture, as Emmanuel Macron wished at some point? It is a bold risk that was chosen before in France, for instance for the painted glass of the cathedral in Strasbourg. From the history of Notre-Dame to today's patrimonial debates with the reconstruction, more than 850 years after it was built, the cathedral is still on everybody's mind…
Passionate by art and culture, Ophélie Delacour graduated in cultural mediation from Ecole du Louvre, in Paris. Since a couple of years, she works as a tour guide and organises tours in different Parisian districts and masterpieces (Eiffel Tour, Latin District, Montmartre). In 2019, she comes to Toronto to work for one year at Alliance Française Toronto and offers the first online guided tours during Covid-19. She is now back in France, where she lives and from where she keeps on giving online tours in Toronto. 
This Parisian guided tour is part of a serie of 4 online talks:
The Eiffel Tower: an Iron Lady // Friday, December  4

Rodin Museum: sculpting life into stone // Friday, January 15 

Women at Pompidou Center // Friday, March 5  

Notre-Dame de Paris: legend, history and reconstruction // Friday, April 16